England - Day Eleven (April 9th)
Today we went to the Burleigh factory for the first time --
It's the Middleport Pottery, located on the canal in Burslem, Stoke-on-Trent.
We met with William and Rosemary Dorling, the couple who saved the pottery from certain extinction.

(You can click on each picture to see a larger version.)
Follow the A50 to see the rhino? (Look closely...)
The region is home to quite a few famous potteries!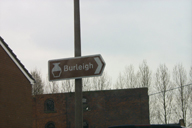 We're almost there!
Window of the factory shop - Dutch flower jugs in several patterns are visible.
The entrance from the parking lot -- much more friendly than your average U.S. factory!


P0011559.jpg
P0011560.jpg


P0011561.jpg
P0011562.jpg


William and Rosemary Dorling, in a bit of a shadow...
William and Rosemary, much better with a flash!


Sue, the packing and production wiz.
The watering can. We like the watering can...


Square storage containers in the Glost.
Lots of pottery waiting in the Glost.


A clock, somewhere.
Neat jugs in the conference room. Only the left-most is currently produced.


More of the watering can...
watering can


watering can
even more watering can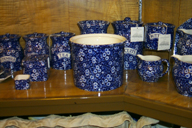 The flower pot in front, assorted pieces behind.
Calibrated water jugs.
The inside of the water jugs, showing the measure.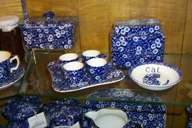 Various Calico pieces, including the butter dish, the egg cups & tray, the tea box, and the Calico Cat saucer.
More Calico!
An assortment of Calico jugs.


Serving platter, coffee cup & saucer, gravy boat, and sauce tureen.
Gravy boat and saucer.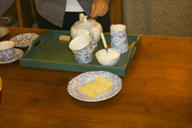 Tea and biscuits in the conference room!